---
PCL Accura MK4 Digital Tire Inflator 4-250 PSI
Shipping Estimate
Ships in 1-3 Business Days
Shipping times vary.
SHIPPING INFO
Shipping Estimate
Ships in 1-3 Business Days
Shipping times vary.
---
---
The PCL AirForce MK4 tire inflator range has become the industry standard in garages, petrol forecourts & tire depots for over 25 years. The digital age is now upon us and PCL are firmly committed to offering the same features and benefits that have stood the test of time with the advancements in digital technology.
Introducing the new ACCURA MK4 Digital Tyre Inflator which marries the ruggedness of a metal analog inflator with the lightness, accuracy and ease of use of a digital gauge. As robust as ever and highly accurate, offering leading inflation and deflation rates with high performance for both indoor and outdoor applications. The large size LCD, backlit screen and selectable units of pressure reading make this the most versatile digital handheld product PCL has ever launched. With a new, short slimline body design, the gauge is the lightest metal bodied gauge on the market, with a biomorphic shape to give increased comfort in use.
The ACCURA MK4 Digital Tyre Inflator is available with a wide choice of tire valve connectors and hose lengths to suit all tire inflation applications and is set to become the hottest new product to have in 2017.
---
Features:
Extremely robust aluminum body with protective rubber bumper - Long accurate life expectancy
Small 'stubby' body is the lightest metal bodied digital inflator on the market - Easy to use with reduced fatigue
Slimline biomorphic body shape gives increased comfort for the user - Fast to use and handle
Higher pressure range for multiple applications 4 - 250 PSI range including trucks - Versatile and flexible saving time and money
Permanently backlit in use, auto off after 10 seconds no-use - Easy to read in dark workshops or at night - Increased flexibility saving cost and time
Large screen and clear digits - Easy and quick to read - Increasing accuracy and speed of use
IP54 - can be used indoors and outdoors, saving time and increasing service
Individually tested and certified against nationally approved gauges
Replaceable 2 X AAA batteries power unit supplied
three units of calibration toggle as standard - PSI, bar & kPa
2-second button hold for calibration toggle
Registered Design
---
Specs:
Accuracy Exceeds: Compliant with BS EN12645:2014
Reading Accuracy: 0.1 PSI / 0.01 bar / 1 kPa
Max Inflation Pressure: 250 PSI / 17.2 bar / 1723 kPa
Max Inlet Pressure: 260 PSI / 18.0 bar / 1795 kPa
Inflation Flow: 190 PSI / 13 bar500 l/min / 18 CFM
Calibration: 4-250 PSI / 0.3-17.2 bar / 30-1723 kPa
Battery Type: 2 x AAA supplied

DAC409
Hose: 21in
Chuck: Dual Angle

DAC4099
Hose: 6ft
Chuck: Euro Style
---
Includes:
10101: Bead Breaker
10500: Turbo II Pump, Air Hydraulic, 3 1/2 Quart+
10604: Hose Assembly with Hose Coupler, 8'
---
---
Customer Reviews
Write a Review
Ask a Question
Filter Reviews:
tire pressure gauges
readings
chore
Everything
tire
dial gauges
second
trigger
batteries
TIRE SUPPLY LLC
01/03/2020
DALE W.
United States
Quality equipment with great customer service!
If there is anything I want to say about ALL TIRE SUPPLY LLC is that they have one of the best customer service departments - bar none. Having an extensive line of tire changing and repair equipment helps, they also have the supplies to get the job done. Over the past holiday season when everyone was enjoying the time off. Customer service contacted me (yes, on their time off) and made sure my concerns would be taken care of asap. Early the first day back everything was made right, along with apologies and assurances that type of error was not a common occurrence. I love this place, high quality equipment with great customer service is what makes repeat business. Thanks, dw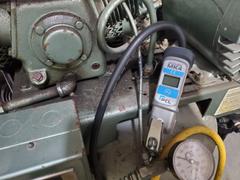 08/13/2019
Bill P.
United States
A bit pricy but worth it
I have had several inflators with dial gauges that never were accurate. So I kept having to use a separate gauge. With this the digital display is easy for me to read and very accurate so no more using that separate gauge. The display comes on when I use it on a tire for just a second. Then it stays on for about 15 seconds after I stop inflating. Just inflate, release the trigger, and look at the pressure. When I received it the included batteries were dead but I replaced them and everything worked fine.
Excellent product
I have used cheap digital tire pressure gauges for years and they occasionally give wildly inaccurate readings and don't last. The PCL Accura mk4 digital is quicker to use, far more accurate and very well built. Checking tire pressures is no longer a chore
Great service and great product - Digital Tire Gauge!
Excellent, and tool is very accurate and easy to use. Thanks Bert
06/03/2020
Donald P.
United States
the equipment is great
the equipment is great just as advertised customer service and information was wonderful